Air Purification and Protection
Are your buildings protected?
The concern is that the current recommendations do not adequately protect the population if the concentration of virus-containing aerosols builds up in indoor environments with poor ventilation. This could be especially important as businesses and schools consider reopening.
TPG Environmental now offers total interior air and contact surface protection. Leveraging a proprietary air and surface purification process, we can easily, quickly, and cost-effectively mitigate the dangers of Covid-19 and other airborne diseases.
Best of all, state and local government entities can leverage their funding to apply this important protection for their staff, airports, schools, and other buildings, providing necessary protection to keep things up and running.
TPG's Pure Air solution offers more than a single one time kill layer of protection.
Our solution is simple and patented. It's also non toxic, green, epa safe and FDA registered.

We simply spray the Pro-Techs solution on any surface including the HVAC filter. Our preference is to use an electrostatic sprayer. You're then protected up to 90 days. We use a dry kill method that electrocutes the organisms leaving the air you breathe pure, clean, safe and healthy.

TPG can now provide a total interior air and contact surface protection by incorporating a proprietary air and surface protection process that is proven to mitigate the dangers of Covid and other airborne diseases. The solution using an electrostatic kill rather than a chemical kill and our solution is FDA and EPA approved. It is different than wiping down or using disinfectants which require daily administration. No solution exists in the market like this one because it provides an anti-microbial electrical kill with 99.99% effectiveness through the HVAC filtration and circulated air. The applied solution inhibits the growth of all pathogens – bacteria, fungi, mold, mildew, algae – via electrocution instead of poisonous chemistry. It provides more than a single one time kill layer by using a 3 step protective shield technology offering protection of air 24 hours a day, seven days a week for up to 90 days.

Contact us today for an estimate and let us test your environment before and after, to show you how effective the solution is.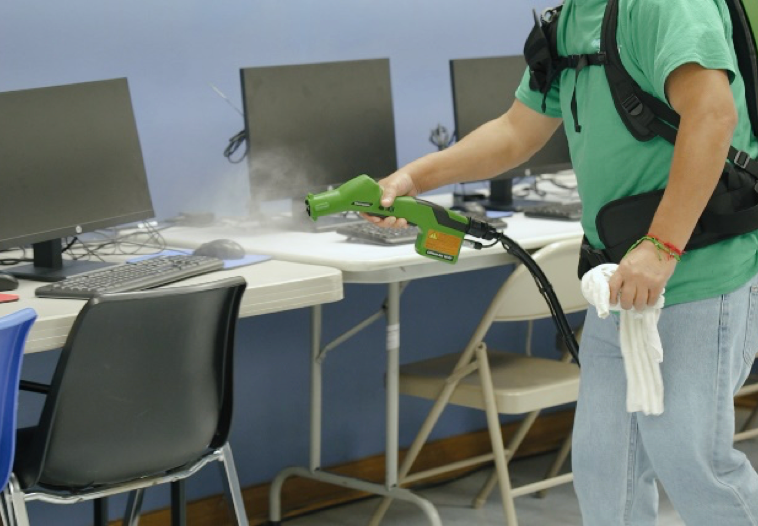 How it works
Our solution has a 99.999% effective, guaranteed kill rate on airborne pathogens
Stage 1
Product anchors to the surface with its unique OrganoSilane base
Stage 2
Positively(+) charged nitrogen atom draws the microorganism like a magnet
Stage 3
(18) vertically stacked carbon chain ruptures the microorganism outer cell wall
Stage 4
Microorganism is destroyed via electrical physical kill
We are here to help!
To speak to our Disaster Recovery Team for a free quote please call or fill out our form.
318-592-9181